TRACKER MODIFICATIONS & ADDITIONS INSTRUCTIONS:
Also includes standard & advanced maintenance.
Instructions, Diagrams and Helpful Information.
LAST UPDATE: 3/22/2001



INFORMATION TO KNOW BEFORE MAINTENANCE
<Torque Specifications (Print for reference)>
<View Cam/Crankchaft Timing Marks>
Engine Cylinder Firing Order
Rim Compatibility List (Other Vehicles With Same Bolt Pattern)
U.S./Metric Bolt, Hex Nut & Stud Classifiactions
How to read Tire information



RECALL INFOMATION (1989-1999)


KNOWN TROUBLE SPOTS!
EMISSIONS CONTROL SYSTEMS



Your Car's Chemical Compounds!
The Truth About OIL ADDITIVES!
By-Pass type Oil Filters - Never change oils again?



WEB ADS


(READ THIS, OK?)

---

<Adijusting Throttle Plate To Open 100%>


<Adding a Transmission Cooler> <See a picture of it!>


<Adding K&N FilterCharger> - <Advanced Filercharger kit> - <Air Raid System> - <Dual Inlet K&N>


<Replacing OEM Horns With Air Horns> <See a picture of it>


<Performance Enhancements That Should Not Void MFG Warranty>

<Enhancements that Will Void MFG Warranty>


<Recomendations><Stereo Equipment Examples>
<Idle Speed Cut-off>

---
MY TRACKER: SPECIFICATIONS AREA -

ALARM SYSTEM SPECS
AMPLIFIER SPECIFICATIONS
STEREO HEAD UNIT SPECS
HEAD UNIT FACE PICTURE
CD CHANGER SPECS
CD CHANGER PICTURE
---

OTHER MODS:
Header (Picture) Dough Thorley Header For 1.6
Wheel Spacer (Picture) Add 2" of stability by pushing each wheel out 1"
Engine Rebuid Kits
Major Engine Power Enhancements
Ring & Pinion Gears For Differentials
Suspension
Dual Transmission Cooler & Fans Diagram


Hydaulic Suspension
PAGE FOR REPAIR AND MAINTENANCE-

GEO TRACKER IN THE COMMERCIAL INDUSTRY
These are pictures of a Geo Trackers/Sidekicks used as Police Vehicles, and other.
---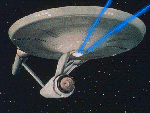 DISCLAIMER: I will not be held responsible for any damages done to your vehicle when performing any of the items listed on this page. These are my opinion, and things I have done to my tracker, that may or may not work on your vehicle. Any items you use here are done so at the sole dissgression of the user/reader, and at their own risk. As always, the person performing these additions, or modifications must possess some mechanical skills, and must have an inclination for creativity. Please check with MFG warranties, and your dealer to be sure these items will not void any warranty you may have with the vehicle. Most retailers for used cars will not honor the warranty once you make modifications. Although this is not legal, and is treated like a MFG warranty, they will use the modification or addition as an excuse to not honor the warranty.

---
PENNSYLVANIA STATE EMISSIONS PROGRAM
---

Adjust TBI Throttle Plate (1994) for max. air & fuel intake - It has been very common for the throttle to only open up 80-90%. These instructions will tell you how to make sure the plate is at a 90=degree angle (straight up and down), rather than the stock setting.

1. Locate gas pedal restrictor on floor.
2. Tighten in towards the floor until it won't go any further.
3. Locate kickdown and throttle assembly on engine.
4. Loosen kickdown cable adjust nut so you can turn it with your hand.
5. Adjust linkage (loosen) while applying pressure to accelerator until the plate is straight up and down.
6. Tighten kickdown assembly to new setting.

This new setting will cause the trans. to kick-down at its new setting. The throttle plate will advance a tad more when
you trigger the kick-down.

The kickdown cable is what was limiting the throttle plate to open all the way. It may not make much difference to
a tracker equipped with oversized tires (215 to 235). However, I have been able to climb hills without kicking
down a gear (when it did before). You can press the pedal all the way down, and get a feel for when it
kicks-down, then you know where to stop before it does the next time.
---
Adding A Transmission Cooler
The instructions you get with a cooler is very vague. Fluid will leak all over the place while you are changing
the lines. The cooler should come with some hose, and a coupler. This is in case one of the lines is too
short, you'll need to add a few inches or more. Also, buy a quart of trans. fluid. This is so you can replace what you leak, and for the additional small amount the cooler retains.
I used the "Through the Radiator, then cooler" method, and did not have to use a coupler, but still needed the
hose it came with, and only about a foot and a half if it. As soon as I get my digital camera back on-line, I'll
provide the installed product.
Read the instructions FIRST to prepare yourself with any adjustments and tubing preparations you may need.
1. Dress in old clothes that you can throw away if needed.
2. Remove the grille
3. Locate where you want to place the cooler (if using the through-radiator straps)
a. Bolt cooler using brackets or other way you want it
Mounted it left side low, so the RETURN line would connect directly to bottom of the cooler.
My rad. cooling lines are completely opposite each other, and the return line is longer.
4. Jack front of vehicle up so you can crawl under it.
5. Locate the transmission cooling lines.
a. The "return" line is the one that enters furthest to the rear of the transmission.
b. The "sending" line is the one that is in front of the return line.
6. How do you want the trans. to cool?
a. Through the cooler only? (Steps 7 - 8)
1. You'll need more line and possibly another coupler (depending upon where you mounted it)..
b. Through the rad. first (stage 1 cooling), then cooler (stage 2 cooling)? (Steps 9 - 12)
1. Should only need the line included with the kit if mounted properly.
7. Remove the "sending" line from the rad. and place it on the top most connector & clamp.
a. Always push in firmly, while twisting back & forth so hose clears both flanged edges, clamp goes between the flanges!
If the connector only has one flange, the clamp goes in front if it.
While you're here, observe the color of the leaking fluid. If it's not red or pinkish, you need to change it & the filter!
Don't get upset that fluid is leaking everywhere, you bought an extra quart, right?
b. use your coupler if you need more length.
8. Remove the "return" line from the rad. and place it on the bottom cooler connect & clamp.
a. use a coupler if you need more length
(GO TO STEP 13 )
9. Fasten the kit hose to the top cooler connector (size it to the "return" line connector on the rad, add 2" to 2.5" & cut),
clamp, and let it hang.
10. Remove the return from the rad. line and place it on the bottom cooler connector.
a. Fluid will start pouring on you, don't panic, is just smells!
While you're here, observe the color! If it's not red or pinkish, you need to change it and the trans. filter!
11. Fasten the line connected to the top connector, and place it on the rad. where you just removed the trans. line.
12. Fasten the trans. "return" line to the bottom cooler connector & clamp.
13. Check for leaks
a. If you used the cooler only method, remaining fluid will drain from the radiator.
14. Lower vehicle, remove jack.
15. Start engine, place in gear anc check for leaks.
a. Have someone sit in the car with the break on while in gear
b. Use the ER Brake so the car does not move if you are doing this alone.
16. No leaks? Good, stop engine, park, and put your grille back on, put jack away.
17. Leaks? Tighten clamps! There should be no leaks if clamped properly
18. Put your grille back on, and put all your tools away!
You're done!
[TOP]

---
Adding a K&N Filter Charger (1st Generation Type)
Example shown below, 1994 Trkr, 1.6ltr. 8v-sohc (Origonal Filter=LEFT, New Filter=RIGHT)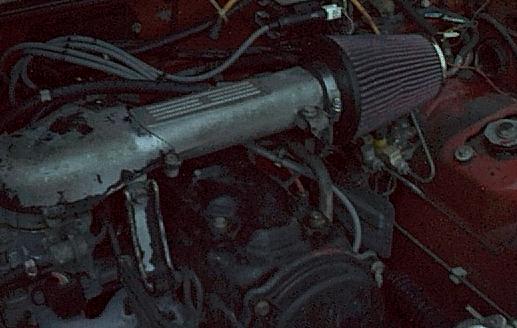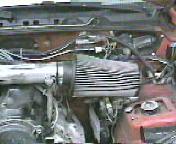 1. Remove the intake hose from the plenum, and measure the OUTER DIAMETER of the intake.
2. Find a filter from K&N that will fit.
a. If your plenum intake is 2.5" a 2 and 3/8" flanged end will fit.
b. The fanged end will expand or clamp about 1/8th of an inch, so get the closest to your
plenums'' diameter.
3. Put your intake hose back on.
4. Place your order for a K&N filter (RC-4160, 2 & 3/8th flange, will stretch to 2 & 1/2 or slightly higher)
a. Can order directly from K&N, open a dialog with the sales (email them) and give them your measurement,
they can try to find one for you (specify filter type; cone, oval, (cone is cool!)).
b. If you do not want CHROME, and want to spend less, use part# RU-3560.
5. When filter arrives, remove the intake hose from the airbox, and the plenum.
6. Twist on the filter to the end of the plenum, and clamp!
a. Dip flange in HOT water to make it easier, I just twisted it back and forth till it went on (was cold out too).
7. You're done!
a. You can remove the air-box and components up to 1994 (as you can see, I did).

EFI and and some later model Trackers have Emissions Control Sensors on the air box, and removal is prohibited by the EPA.

This will mostly increase cruising gas mileage (45-55) high-end horsepower, better climbing ability, and better throttle response at high RPMs. Intake noise becomes quite audible, and can be loud at full throttle!

The filter may make contact with the hood, but very slightly, and will not damage the filter. Mine does, but also gets
more pressure because my Trans. mount is going bad, and I have a bit of engine lean when accelerating from a stop.

---
Here is a sample Samuri "bolt-on" Kit: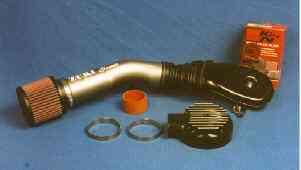 This is an example of a Manufactured First Generation Filter Charger System. You can probably make one
yourself, if you have any type of plenum intake system. Samuri 1.3s come with the Carburation unit, so you
would have to make your own, and is relativeily simple
[TOP]

---
Advanced Filtercharger Injection System, Second Generation.
(Bolt-on Kit Example shown below)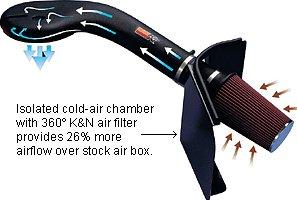 You can make your own Filtercharger injection system if you know what you're doing. You'll have to look at
other systems in order to fashion your own. You can do it, just takes a little time and engineering! You can use
an existing kit (not a carburetor bolt-on) and use a hose to connect between plenum and injector system. You will
have to find your own way to mount the unit!
You may be able to buy a system and fashion it to your needs. I saw one for a L1 corvette motor! All I would have to do is mount it somewhere, then use a hose to connect the injection system to the plenum. It just looks way more professional
than just clamping a filter to the end of the plenum. The hose length should not be too long, and use a firm hose
like the stock one if possible.
If you buy the Generation ][ kit (carburetor bolt-on), you'll have to CUT the end off, because you can't mount that
to the carb. The generation ][ kits have a cold-air chamber (like a scoop) that is attached to the plenum of the
bolt-on kit. You can mount this where you will "collect" air and inject it into the carb. through your existing plenum.
You then need to use a hose from the cut-off point, to the plenum.
You can also add a hood scoop to let more fresh air into the engine compartment (a small one). Channel the air towards the
filter. If you place the scoop directly in top of the filtercharger, you will get rain water in it. Offset the scoop, and have
planes welded to channel the air towards it. You have to cut a hole in your hood! Make sure you measure properly!
Note: Your AIR sensor is not in any way connected to the plenum, or air-box (up to 1994)! You can use any
method to get the system installed without compromising EPA emissions standards! That's what's nice about
having this plenum these trackers! I haven't seen a 95 or above intake system, but if it's as simple as mine, this all will
work for you.
I have heard, and read the 1995 and later models to have EPA systems on the air box. Do not remove the components
if you are required to have these items for any kind of inspection, or emissions testing. This way you can hook up the
original system before taking it for these tests.
[TOP]

---
AIR RAID SYSTEM (EXAMPLE)


This is yet another example for use of a K&N FilterCharger unit. This hi-flow air induction system which increases airflow up to 20 percent over factory, which creates an 11-20 HP gain. These systems are custom fitted for each vehicle, but this shows basic design. This type has a hole in it for the air-flow sensor.
<TOP>

---
DUAL INLET K&N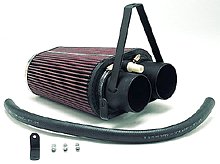 This is a dual inlet version of the con filter K&N offers. Don't know the part number, but it looks pretty good. I was thinking of a DUAL cone system myself, then I found this one.
---
Adding Air Horns (Trumpet Style w/compressor)
1. Remove grille
2. Remove OEM horn.
3. Find a place to mount your Air Compressor.
a. On 1994, I used an existing hole in the Radiator side mount, top left side.
4. You need a steel bracket to mount the horns to.
a. I used a "holed" flat piece of 1" steel, about 7" long.
b Mounted it to the center post under the grille.
c. You can also use the existing OEM horn bracket to mount the metal piece.
5. Space the air-horns evenly apart.
a. Some kits have up to three trumpets, typical is two.
6. Measure and cut hose lengths, and connect to Compressor & horns.
7. Connect OEM horn wires to compressor.
8. Change OEM fuse with 30amp fuse (circuit that handles the horn).
9. TEST.
a. The only thing that can go wring here is the polarity of the wires connected to the compressor.
If the compressor is working, but no sound, reverse the wires.
10. Replace grille & your done!
These horns are VERY loud! I have a four trumpet system, it was a three, but I added one that I had
from another system.
If you do not change the fuse, rapid multiple hits will blow the fuse quickly! You will also loose your ability to
shift from park if you pull over, because you have to depress the break to release the lock-out for park. These are
all on the same circuit.
You can use packages Relay, that will require extra wiring, but will allow you to keep the existing fuse in the
circuit, because primary power for the compressor will be from the battery. The relay only acts as a switch
when the horn is depressed, but power from the battery passes on the other side of the relay, while the horn
power simply triggers the switch.
[TOP]

---
Performance Enhancements (Should not void warranty)
1. Install a set of Bosch or NGK Platinum Tip Spark Plugs
2. Install a new set of wires, Magnetic Suppression, 7.5mm
a. I bought a set of MSW wires, that were tested to allow more spark energies to the plug. You can go to an auto outlet
and compare plug wires, and make a choice (find the set for your make and model).
3. Replace stock exhaust with custom to 2.5" or duals after the cat.
a. Kits are available from other MFGs.
4. Use K&N RC-4160 Filtercharger (up to 1994)
a. Later models can use OEM replacement filter (drop-in type, they are not filterchargers).
The following will void the MFG warranty, and are professional enhancements
5. Replace OEM header pipe with true headers
6. Replace OEM Cam with performance CAM
a. Three types are available for the "Samuri" 1.6, provide more valve lift & duration. Geo up to 1994 1.6 is the same engine.
I. More valve lift & duration allows more air intake, and faster exhaust.
7. Replace carb. with weber carb.
8. Replace fuel-pump with higher capacity/velocity type
9. Replace injector with larger injector
Other performance enhancements are available:
Supercharger & Intake/Carburator replacement kits
[TOP]

---

Recommendations:
1. Replace the Cap & Rotor every 15k (I do it every year when summer arrives)
2. Replace the PCV Every 30K (OEM is 50k)
3. Use an engine oil treatment such as Duralube (Do not use Slick 50 until you pass 100k miles)
a. Prolong is better, but requires a "booster" every oil change, and becomes to expensive.
I. These reduce friction and free up torque (Prolong is top-shelf!)
4. Change oil every 3k
a. Gas in the oil will reduce power output, and produce bad emissions.
I. Use 10w-30 in the winter.
II. Use 10w-40 in the summer.
5. Have valves adjusted every 20k
a. With the engine treatments, I had mine done at 77k and very little adjustments were required, one valve needed
adjusted more than the other three. As the metal wears from the cam lobes, the valves lose lift, adjusting restores lift.
6. Change differential & manual trans. gear-oil every 50k miles.
7. Purge coolant system every two years
a. Evacuate all coolant & replace
8. Use a coolant system treatment
a. Anti-Freeze is oil based to keep the pump lubricated. There are treatments available that have the same
function as an engine treatment, but is for the cooling system.
9. Replace any OEM hose clamps that are leaking with regular "strap" type clamps, the ones you tighten with a
1/4" driver or regular screw-driver.
10. Replace OEM filter every 3k miles
a. If K&N filter, use their cleaning kit every 5k miles (7k at most).


I put Duralube in every year, with an oil change. Do not put any engine treatment until you have at least 2k miles
in your vehicle! You could actually cause damage to the engine, as the parts are still tight. The treatment would make
them tighter, and is not recommended. I waited till I had 16k, and my motor has shown very little signs of metal
wear & loss, with no carbon deposits in the top-end.

I have also used Duralube in the Transmission. I am not going to recommend this, because I do not know what has
caused my "lockup" clutch on the torque converter to go twice. Treatments will prolong life, but the trans-cooler will also.
[TOP]
---
For a copy of this web site on

, please send 9.95 to:
Robert L. Borowski
C/O Trackersite on CDROM
219 Franklin Ave
Vandergrift, PA 15690

---

Disconntinued in 1999, when the name was changed to "Chevy Tracker."

= Latest Additions

---