STEREO SYSTEMS & COMPONENTS
These are pictures of Speakers and other items that should fit in the Geo Tracker with the REAR seat removed.
Some may fit behind the Rear Seat.
Bandpass Enclosures
Tube Subs
Overhead Speakers
Underseat Speakers
6x9 Enclosures
Amps
Noise Supression
Speakers
Equalizers
More Amp Stuff
More Noise Supression Stuff
Television & Video
---
Head Units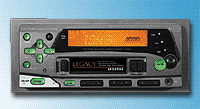 7-3/4"W x 5-3/8"H x 2-7/8"D. 30 station presets (18 FM, 12 AM). Auto-store and preset scan. Effortless electronic controls (volume, bass, treble, balance and fader). Large LCD digital spectrum display. Full illumination for easy nighttime operation. Features mute function; FM stereo/mono button; manual up/down and seek tuning; loudness control; clock; RCA line-out; CD input jack and line-in. DIN type unit, like AC DELCO unit, direct replacement in most cases for GM and CRYSLER.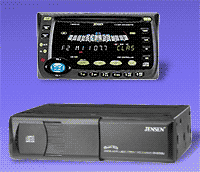 Double DIN size 7"W x 4"H x 7"D to fit most foreign vehicles. Full-logic auto-reverse for effortless operation. Automatic music search scans tapes, plays next selections. With automatic metal tape equalization and a programmable sound field. Faceplate flips up or down to reveal or conceal cassette or CD slot and detaches for maximum anti-theft protection. System includes electronic volume, bass/treble, balance and fade controls, loudness button increases bass at low volume, digital clock, easy-to-see multicolored illuminated display with dimmer controls and 2 pairs of preamp outputs. 5-volt preamp voltage. Includes carrying case for faceplate, wiring, hardware and instructions.

---
Folded Horn Bandpass Enclosure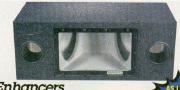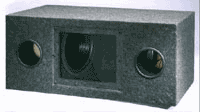 Almost any amp can be bolted on to this unit, top or back.
Mine is this type of enclosure, except I have six 3" ports on each side, and .25" plexiglass face.
They come in 10", 12",and 15" configurations, mine is 12", but I do have two BRAND new 10" I can use. . .
Specs for the one on the RIGHT:
Built-in 4" port tubes for deepest, richest bass response possible
Clear plexiglass window for custom-box appeal at a fraction of the price
Choose box with 10" or 12" woofers

---
Bass Tubes/Cannons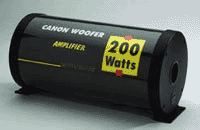 Powerful, distortion-free bass
Built-in amplifier means space-wasting separate amp unnecessary
More efficient and easier to install than box subwoofers

---
Overhead Speaker Enclosure


This can be mounted up front or middle of the vehicle. You can see that the center is adjustable, and here are the specs for this particular model:

6 quality speakers (two 4"-woofers, two 2-1/2" midranges, two 1" tweeters) in a single, low-profile housing that extends only 2-5/8" into your vehicle. Approx. 7" deep, unit has bass reflex port and is covered with attractive, durable black covering. Will not mount on roll bars. Frequency response: 50-20,000 Hz. 4-ohm impedance. Fits all vehicles with up to 52" wide roof (inside measure).

Installed Product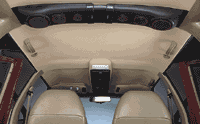 You can see how the center was adjusted IN to fit this vehicle. In a Tracker without trimming, you would have to bolt the ends on to the metal at each side. You could do this right behind you, or up front there the visors are.
This shows how it is installed in a Van. A tracker does not have TRIM, unless you have the LSi or ordered it.
With trim, it does not require any bolting on. However, without, you would have to bolt it to the metal sides of the tracker. If you have the hard top, it should be no problem.
With a covertible, you leave the underside exposed when you remove the top, no matter where you mounted it, UNLESS:
You remove the DOME light, replace the light with the enclosure, so the middle is completely covered, and remount the dome light in the center once installed.
---
Underseat Enclosures & Speakers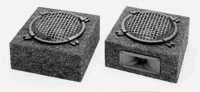 These fit under the seats, self explanitory

---
6x9 Enclosure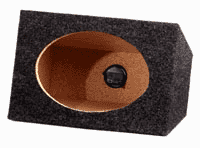 Nice way to add a few speakers ANYWHERE!

---
IA Series Amplifier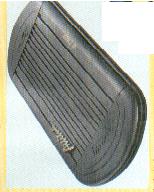 This amp (IA5300A) features 65W x4, and 130W x 1 channels. This allows for the 130Watts to be distributed to the woofer cabinet, while giving you four more options for Mids and highs.

Auto amps rarely come in 8-ohm packages, and are more expensive, and produce more heat.

Example: 70WATT at 4-ohms, or 85WATT at 2-ohms
130W 160Watt

Bridgeable amps, for example, would allow you, at the flick of a switch, to combine your two 50Watt channels into one 100Watt, and so on. Some four channel amps will bridge to two channels.
Match the ohms to the same ohm type of speakers. A 4-ohm amp should be connected to 4-ohm speakers. If you would use 8-ohm speakers with the 4-ohm amp, you reduce RMS power output by at least 15%. In the same manner, using 2-ohm speakers with 4-ohm amp will increase RMS by 15% or more. The 2-ohm speakers better be able to handle the power.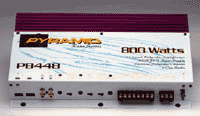 Low cost, high power amplifier. Pyramid offers amps with power from 240 to 800 Watts—you're sure to find one that suits your needs. All include the following features. Gold-plated low-level high-impedance inputs. Power-on LED indicator. Frequency response: 15-30 kHz. Remote turn on/turn off.
---
NOISE SUPRESSION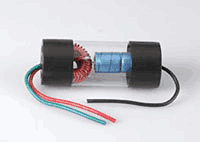 Simply splice into hot wire lead between fuse and car stereo. 2 models: 30 amps for amplifiers to 300 Watts, 10 amps for amplifiers to 100 Watts.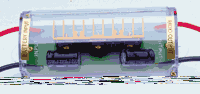 Another Electronic suppressor has special filter (with 2 transistors and capacitors) to eliminate virtually all electrical noise from alternators, fan motors, ignitions, generators. Also helps eliminate in-line radio frequency noise. Up to 250watts.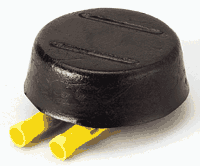 Virtually eliminates annoying alternator and ignition static/hum. Easy installation—splices into hot wire lead. Up to 720 Watts.
Hum is also a sign of a bad ground.

---
SPEAKERS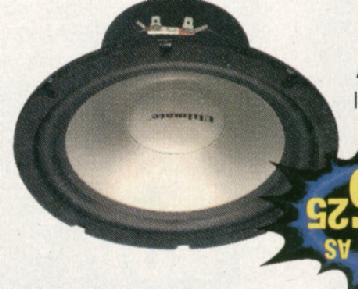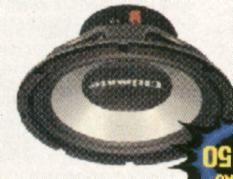 Speakers should be Titanium formulated injected molded cones. This offers strength and reliability, with perfect weight to mass ratios. These should also have Butyl-rubber surrounds to perform optimally at low frequencies. Polypropylene, rubber, and foam surrounds are a thing of the past! Butyl rubber offers faster return, and more ridged performance in small sealed or ported enclosures.
Another type, same specs as above, combined with vented voice coils (small screened hole in the middle, rear of the magnet assembly), makes an awesome low frequency driver.
TWEETERS
Newer or luxury cars have the tweeters along the sides of the front windshield. These are usually Niobium rare Earth ferro-electric tweeters. They provide extended highs for demanding applications. You want a 5Khz-25Khz range. The packaging may say they are Computer Matched pair, and are only sold in pairs. Find the ones with a built in crossover. These tweeters are small, and can be mounted almost anywere, and may also have angle mount capability.

---
Standard two and four channel Amplifier, Bridgable, and non.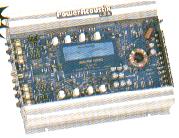 New style of transparant amplifiers. Ranging from 65 - 250Watts per channel.

High Performance Amplifiers.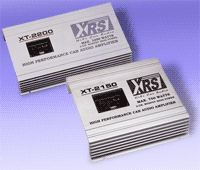 Everything you want in a top-quality amplifier including pulse-pounding power output levels and a hard-to-beat low price. Fully adjustable low-pass crossover. Built-in 12 dB bass boost for deeper lows. MOSFET pulse width power supply for greatest efficiency and quicker response to musical peaks. 2-ohm stable for multiple speaker installations. 3-way protection—thermal overload, short circuit and reverse polarity. Virtually distortion free—less than 0.05% THD (total harmonic distortion) at RMS rated power levels. Includes high/low-level inputs and gold-plated connectors.
Mosfet Transistorized Amplifiers are rated among the highest quality of amplifiers! There are also different classes of Mosfet Amps as well. Pick one that suits you!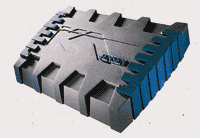 These amps offer several other top features. Massive low-profile die-cast heat sinks for cool looks and cool operation under all conditions. 2-Ohm stable for cool running when driving multiple woofers. Full protection—high temperature, high/low battery voltage, speaker short circuit and DC offset. Almost no distortion—less than 0.04% THD at RMS (4 ohms) and 0.1% THD at RMS power (2 Ohms and bridged). Bass boost (0 to 12 dB) for deeper lows. But wait! There's more! Pass-through RCA outputs. Input level control. High/low level input. Gold-plated inputs/outputs. Frequency response 20-20,000 Hz. Includes instructions. For 12-volt negative-ground systems.

---
Equalizer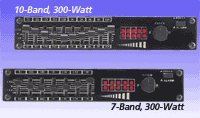 These have a built in alarm that sounds when the doors are opened.


Compact pre-amp equalizer features LED power level meter, rotary 4-channel fader for front and rear speakers and full night-time illumination. CD input jack allows hook up of a portable CD or cassette player. Low-level RCA input and high-level speaker wire inputs. Frequency response: 20-20,000 Hz. Size: 5" x 7" x 1". With Subwoofer output. Good for all muti-amp uses.
Got to have one of these for your primary speakers (not your BASS speakers, unless you want to commit one EQ to them, to increase DBs in the 30-150Hz bands (like I do for my Bedroom Surround system), but the rest are at -12db)).
Can use an EQ-AMP, the best way to go so you don't need two different components, but most EQ-AMPS are low power. I was lucky tp find the 250Watt EQ-AMP at 8-ohms that works great with 4-ohm speakers.
Try and avoid "Power Boosters", they only give you power to keep the speaker coils energized, and not the RMS you need for sound. Boosters can give you more background "hiss" than amplifiers.
If you need to, use an EQ-Booster do so with a lower powered amp. IF conjunction with a powerful amp, use a PASSIVE EQ. Passive only Equalizes, and offers no power amplification or boost to the signal.

---

High level or low-level inputs? Highlevel out-to-Lowlevel in give you more volume, but less adjustment room. This means, you can go from Low, to blasting with less than a quarter turn. Use LOW LEVEL inputs with low powered head-units (20Watts and under, sometimes 25watts)

Use HIGH LEVEL inputs for high powered head-units (35-50watt per channel).

---
FILTERS!
A must for whine, pops, and clicks! Most popular is the alternator filter, 1st defense line against whine (your electric turbo-charger).
The RCA in-line phono plug "loop" filters have caused me serious drops in the 30hz to 4Khz bands, drowning bass and vocals! I do not use them, and do not recommend them. I tried this type once, and never again.
In-line power line filters are good protection from noise. If you have a 150Watt amp, use a 250Watt filter. Some filters only go up to 350watts, and that's not even a generous rating. You may have to PARALLEL two filters to supply power. Using filters in series may increase resistance.
A radio antenna EMI filter is also helpful to reduce, or rid your radio signal of noise from the Distributor, or Ignition coil.
Applying the brake to shift from park will be the first damaging "pop" to your equipment (from the solenoid in the shifter). If you get this, and can't filter it out, try and keep power off to the amps till you are out of park. The next will be turning the head-unit on/off with power to the AMPS. Turn the radio on first, wait, then the amps. The "pop" can damage the speakers by exceeding the throw-limit of the cone, or burning out a coil.
Above all, a good ground is essential! Go straight to the Negative battery terminal when possible.
---
VIDEO APPLICATIONS (HARD TOP)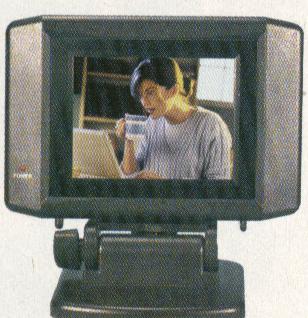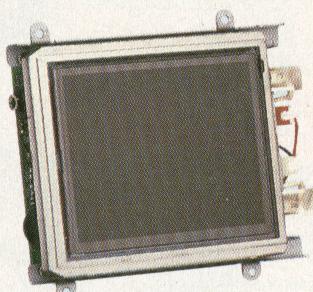 Santeca 4" TFT-LCD screens are available as a mountable kit (LEFT: $180.00), or monitor module (RIGHT: $150.00, and you have to build in into something). They have standard Video/Audio(mono) inputs.

You can mount the Kit upside down, so the screen FOLDS down from the top, but you'll have to flip the screen.

There is a kit that is assembled like that, in a bigger MINI-VAN type console that mounts on the roof, screen flips down, and that's like $825.00 down to $659.00 (6.8" down to 5.4" Television, not a "Monitor") They can be chained together for the same picture on all screens. They have Ir remotes, the whole ten-yards. . . Monitors in the SAME package are 625.00.