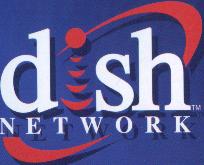 ---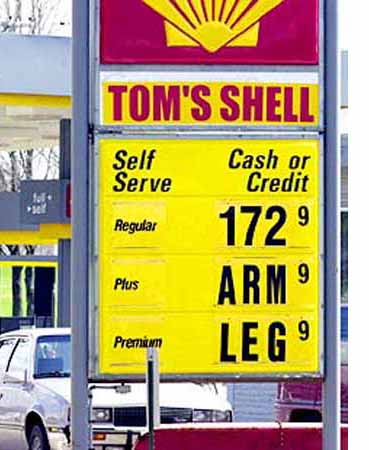 ---

---


(CLASS IV SHUTTLEPOD - UPRD)
DECOMISSIONED - 0007.29
(History)
(Photo Gallery)

---
.



.
---
---
<SOUND SYSTEM (FOR SALE!)>
<VIDEO SYSTEM>
<RATINGS>
<SPECS>
<POWER OPTIONS>
<FUTURE OPTIONS>
<COMPUTER>
<LIGHTING>
<SECURITY SYSTEM>
<INSTRUCTIONS ON MODS, ADDITIONS, REPAIRS & MAINT.>3/14/01
<LINKS>
Master Muffler! Where my Exhaust and major repairs are done

---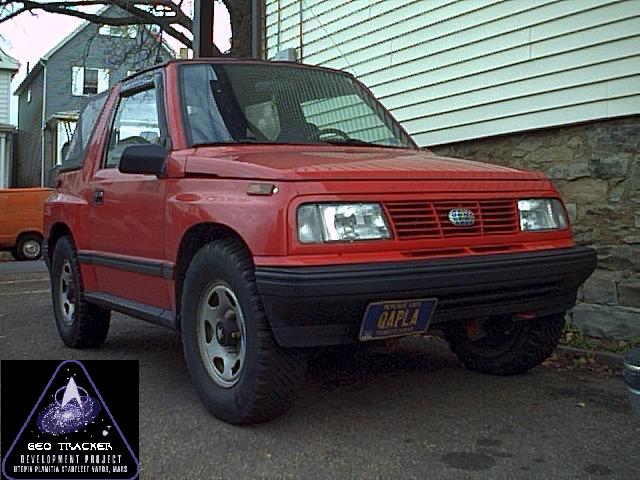 1994 GEO TRACKER CONVERTIBLE
Yes, those are Star Trek communicator bages on the front hubs!
1.6 LTR 8V SOHC
3SP AUTO (TH180C) RWD W/LOCKUP
TRANS COOLER (addition)
BOSCHE PLATINUM +4 PLUGS & 7.5mm PLUG WIRE (addition)
TACHOMETER (addition)
K&N FILTERCHARGER (addition)
QUAD TRUMPET AIR HORN (addition, replaced stock)
P205 75R15 UNIROYAL TIGERPAW(R) / GOODYEAR DECATHLON(F) TIRES
TINTED WINDOW RAIN GUARDS
STOCK RIMS
STOCK SUSPENSION
FOLD AWAY REAR SEAT (Removed)
2.25" CONVERSION EXHAUST SYSTEM W/TUNED MUFFLER (addition)
TWO PIECE SUNPORT CONVERTIBLE TOP W/Zip-out Side Windows
PILOT 55watt FOG LAMPS

---
SUN PORT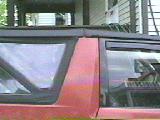 Tachometer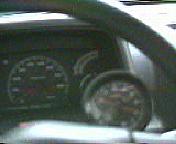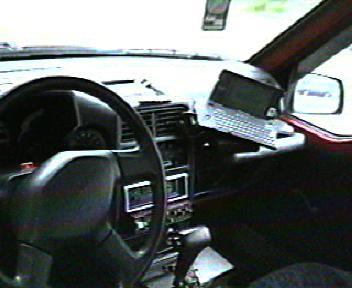 2.25 to 3" Stainless Exhaust Tip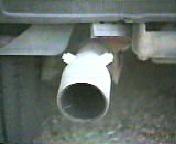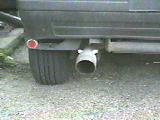 Ratings:
Safety 2.5 (Like that surprised anyone)
Reliability 7.1 (bet this one did surprise you)
Performance 6.2 (it has more power than you think)
Comfort 7.0
Value 3.6 (value is based upon season, who would want a convertible in the winter!)
OVERALL 5.3
Folded Horn Bandpass Enclosure, six 2" ports, 3 each side.
Six Port Design
Two 450 Watt peak, 300 continuous 12" Sub-Woofers w/screened cooling vents
Quick Disconnect Terminals
1/4 Plexiglas Window (Acts as resonator)
Combined weight of > 75lbs
ALL FOLDED HORN BANDPASS ENCLOSURE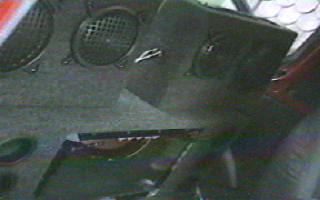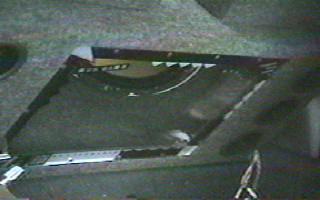 Mounted on top of Cabinet - Two Audiovox 100watt floor kickers - Specs are "per cabinet"
(This configuration replaced with New Kicker Box, full length 8" Woofers & Horn Tweeters)
Added a strobe light on each side, Top rear corners (triggered with alarm)
SPEAKERS TOTAL WEIGHT APPROX. > 100lbs
TWEETERS (One on each side) They are hard to see, should have opened the iris a little. . .
40Watts RMS Each
12Khz-20Khz Freq Responce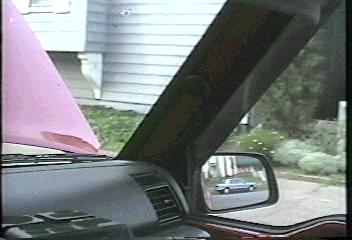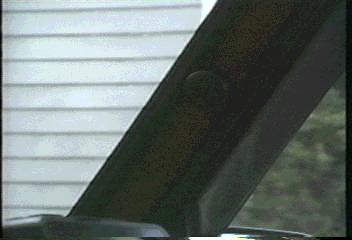 The wires are run under the rubber trim around the window frame (Left in vehicle when traded)
Other speakers are 40Watt OEM style replacement for front Dash speaker area (Left in vehicle when traded).
PreAmp Driver: 250WATT PYRAMID 7BAND GRAPHIC EQ W/HIGH SPEED SPECTRUM ANALYZER
Main Amplifiers : Two Optimus XL-200 (one for each 12" sub) 200watt (100x2 or 200x1 bridged), Bridged mode.
Fastened to Top & Back of Enclosure with OEM mounts, and Chains for added security.
FrontSpeaker & Tweeter Driver: 200Watt PYRAMID 7BAND EQ (15watts RMS x 4)
Head Unit: Rampage AV-427 100watt (25x4), Tape, Removable Face, All digital controls, Mock Alarm LED
CD Player: Rampage ACC-30 6CD Changer (For use with Above Unit)
HEAD & EQ AMP 200Watt AMPS CD CHANGER UNDER SEAT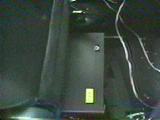 ---
<Top>
VIDEO OPTIONS
Video: 1.5" LCD Color Television, no formal antenna system, Does not stay in Vehicle
SECURITY SYSTEM
Audiovox Prestige Platinum APS-350-A
Dual stage shock sensor (Warning/Trigger)
300mA Starter Disable Relay
Illuminated Entry
30-Second passive arm after last door closed
15A Pulsed Parking Light Flasher (Connected to Strobe Lights)
300mA Horn Relay Output (or other device) to aid dual-tone alarm siren
Programable Three channel RF remote (For other devices controlled by alarm module)
Power Lock/Window/Trunk & Remote Starter Interfaces (NOT USED)
Extra door/trunk/hood/tailgate pin (-) sensor (Zone 2 Trigger - NOT USED YET)
Extra (-) sense Zone 1 trigger (NOT USED YET)
Extra (+) sense trigger (NOT USED)
300mA Latching trigger, channel 3 (for other devices controlled by alarm module) (NOT USED)
Delayed 10A Pulsed Output, Channel 2 (Trunk release, other options)
Valet options
EFD (Electronic Field Disturbance) Sensor; Parallel With Shock Sensor For Warning/Intrusion Alarms (Addition)
STROBE LIGHTS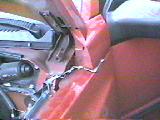 Strobe, one on each side, two in rear. Activate with alarm system.
COMPUTER:
Cassiopia Windows CE PalmTop PC
WinCE 1.0
Excel 2.0
Word 2.0
Ir & Serial Ports
1 PCMCIA Type ][ Slot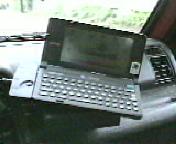 The unit is mounted to a CD Anti-Shock Tray, with Velcro.
Unit is ALWAYS ON, Backlight On, connected to 140watt 120VAC Power Inverter
ADDITIONAL LIGHTING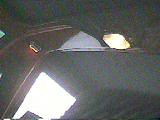 Added two lights, one on each side from the Center dome.
DEFENSIVE/OFFENSIVE DRIVING COUNTERMEASURE
Smoke Screen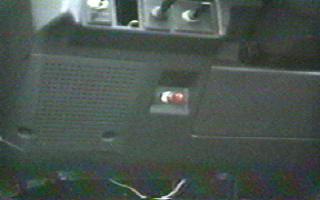 Red button, in dash activates Smoke Screen (Marvell Mystery Oil-to-TBI)

POWER OPTIONS (Not just typical):
BRAKES
12VDC Quick Disconnect Terminals Added To Console (always hot)
115VAC 140WATT (1AMP) Power Inverter (supply to unit always hot) = One grounded outlet
FUTURE ADDITIONS
None Scheduled

YOUR WEBMASTER'S E-MAIL:


OTHER SITES I HAVE:
QAPLA! Star Trek KLINGON Site!


ADS:

---